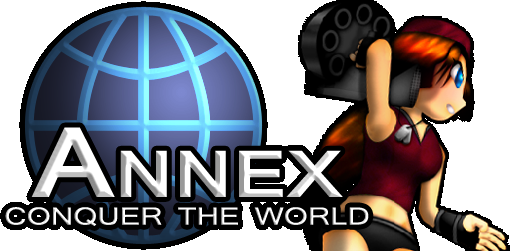 RELEASE 3 IS OUT!
Annex Conquer The World
Annex: Conquer the World is a MegaGlest mod that brings VERY fast paced combat with a diverse arsenal. Play as one of two Factions: The East Ocean Alliance,or the Shadow Organization, as they struggle for dominance in the war torn Southern Wastelands, rich in a priceless red mineral. Built using open source RTS MegaGlest, The focus of the mod is Multiplayer and Single Player skirmishes. Currently, only a simple campaign at the moment, but a full story mode may be in the future. Annex currently has ability to customize restrictions on tech tree such as limiting tiers and starting units.
2 Factions:
Shadow Organization
East Ocean Alliance
12 Game Modes:
Base Battle
Tech Lv 1
Tech Lv 1-2
Tech Lv 1-3
Tech Lv 1-4
Tech Lv 1-5
Infantry Only
Insanity
Pre-Deployed
Unlocked
Mode Assault
Ready for War
3 Tilesets:
SnowToxicWasteland
30 Scenarios!
New Maps!
+ 6 player maps
Masterserver+ Lobby!
Thanks to Tomreyn!
Another server currently under construction! Thanks Treba
Game Manual:
Included with all versions of Annex, comes a quick start guide called manual.html (in the manual directory) and it Includes information about Gameplay, Units, Resources and more!
Get your copy here:
No need for Annex Beta 2 or Megaglest to run!
PS Mod DB Downloads may not be up to date!!!! Please get from locations below:
For Windows:
download:
http://annex.megaglest.org/releases/annex_release_3_win.zip
simply unzip "annex_release_3_win.zip" anywhere and run annex.exe in main folder
For Mac OSX:
download:
http://annex.megaglest.org/releases/annex_release_3_osx.app.zip
unpack "annex_release_3_osx.app.zip" and run annex_release_3.app
For Linux 64 bit:
download:
http://annex.megaglest.org/releases/annex_release_3a_linux_64.tar.xz
extract annex_release_3_linux_64.tar.xz to your home directory
run: ./annex -or- chmod +x ./annex ./annex.bin
./annex
For Linux 32 bit:
download:
http://annex.megaglest.org/releases/annex_release_3a_linux_32.tar.xz
extract annex_release_3_linux_32.tar.xz to your home directory
run: ./annex -or- chmod +x ./annex ./annex.bin
./annex
Contacts:
Indiedb: http://www.indiedb.com/games/annex-conquer-the-world
Facebook: http://www.facebook.com/AnnexConquer
Glest Forums: http://glest.org/glest_board/index.php?topic=6517.0